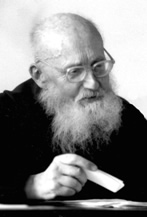 "The Abbey of Pierre qui Vire announces the painful and enigmatic death of P. Adalbert de Vogüé OSB, 86. His body was found 2 km from the monastery after a search of eight days. He probably died Friday, 14 October 2011. The publication of Community and Abbot in the Rule of Saint Benedict (1960) began a distinguished career of research and publication concerning the Rule of Saint Benedict and early monastic literature. He served frequently on the faculty of the Pontifical Athanæum of Saint Anselm in Rome before taking up the hermit's life in 1974 near his monastery. The monks will celebrate the Mass of Christian Burial, Wednesday, 26 October, 11 a.m. Donne-lui, Seigneur, le repos éternel."
With these words the
Abbey of La Pierre qui Vire
announced the death of the greatest scholar of monastic texts in the world. Adalbert de Vogüé was born in 1924 in Paris to a wealthy and aristocratic family. His father was son of the Marquis de Vogüé and the princess Louise-Marie d'Arenberg, and was a principal officer in the Crédit Lyonnais. His mother was from an equally distinguished and even more prosperous family. Adalbert joined the Abbey of La Pierre qui Vire in 1944. His parents both decided to follow him into the cloister, and amid great publicity in 1955 his father entered La Pierre qui Vire and his mother entered
Abbaye Saint-Louis-du-Temple de Vauhallan
at Limon.
In 1960 de Vogüé published his first major book, translated into English as
Community and Abbot in the Rule of St. Benedict
. His scholarly work concentrated on the Benedictine monastic tradition. His editions and commentaries of the
Rule
and of Gregory the Great's
Dialogues
, Book II of which contains virtually all we know about Benedict as a person, are standard. He published hundreds of other books and articles, but his crowning work is the 12 volume
Histoire littéraire du mouvement monastique dans l'antiquité
, a magisterial survey of every written monastic source in Latin from the beginnings to the Carolingian Benedict of Aniane.
De Vogüé was a complicated man. He received a fine education in Paris and Rome and taught many terms at San Anselmo, the Benedictine college in Rome. He lectured widely and participated in the intellectual and academic life of his patristic and monastic specialties. He also traveled. I had the great honor of meeting him when he was a guest at the Monastery of St. Paul in the Desert in Palm Desert in the 80's. He was also devoted to the most austere forms of monastic life, and spent many years living in semi-seclusion at a hermitage near his monastery. He wrote occasionally on the ascetic life, of which he was a powerful proponent, and not of the school of amelioration for the purposes of making such a life relevant to modern people. His was the full-throated cry of the completely committed, and his passion can best be seen, perhaps, in his little book
To Love Fasting
.
He was just as full-throated in his interactions with scholars with whom he disagreed. Not a few revisionists of monastic history experienced his sharp disagreements. And with all that, De Vogüé was the greatest scholar in the Benedictine world for fifty years. It is not too much to say that he is in great part responsible for the brilliant flowering of interest in Benedictine monasticism, having laid a solid foundation for the rest of us to build on.
I can't help thinking both how fitting and how ironic his death was -- lost to others in the forests several kilometers from the monastery, his death hidden from the world he both embraced and fled.